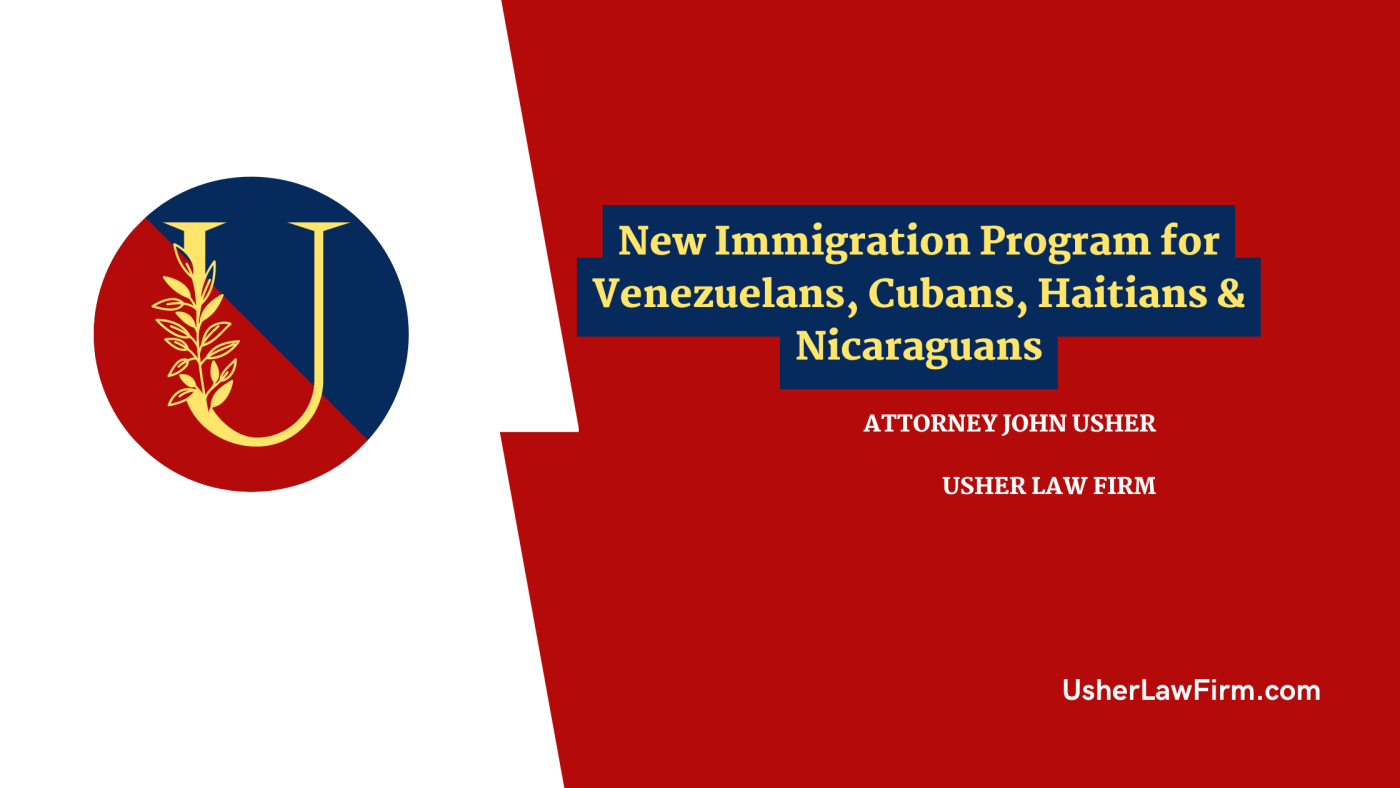 New Immigration Program for Venezuelans, Cubans, Haitians & Nicaraguans
Jan. 12, 2023
The Department of Homeland Security has proposed a new program which will allow for nationals of Venezuela, Cuba, Haiti and Nicaragua who do not have entry documents (a visa) to come to the United States and stay for up to 2 years. The program is designed to provide a safe alternative to people who otherwise might attempt to cross the border illegally. The recipients will be entitled to work authorization. Up to 30,000 people per month and while the program has no announced expiration, anyone interested in applying should do so as soon as possible.
The program requires a U.S.-based financial supporter who has to demonstrate financial resources sufficient to '" receive, maintain, and support" the beneficiaries for the duration of their initial stay. The supporter does not need to be a family member.
Beneficiaries must be:
● outside the U.S.
● have a valid unexpired passport,
● undergo a background check and meet normal visa requirements.
Once accepted, beneficiaries will make travel arrangements to come to America where they will be processed by Customs and Border Patrol at their port of entry.This program is an opportunity for many people who currently don't have a viable option to come to the U.S.
If you have any questions, we encourage you to see below for detailed information or call us at (352) 644 -9037
Eligibility:
Supporter - An individual who holds lawful status in the United States and has passed security and background vetting and demonstrated sufficient financial resources to receive, maintain and support the individual(s) whom they commit to supporting for the duration of their stay in the United States.
Examples include:
● U.S. Citizens
● Lawful permanent residents, lawful temporary residents, and conditional
permanent residents
● Nonimmigrants in lawful status
● Asylees, refugees, and parolees
● Individuals granted Temporary Protected Status (TPS) and beneficiaries of deferred action (including deferred action for childhood arrivals) or DED.
Beneficiary - A national of Venezuela, Cuba, Haiti, Nicaragua or Venezuela (or their immediate family member of any nationality) who is outside the United States and who may be considered for parole under these processes.
Immediate family members of any nationality in these processes include:
● A spouse or common-law partner
● Unmarried child(ren) under the age of 21. NOTE: if a child is under 18, they must
be traveling with a parent or legal guardian in order to use this process
All definitions and examples provided by USCIS website.
If you have any questions, we encourage you to call at (352) 644 -9037 we would love to help you get your family and friends to the United States. Remember, there is an allotment of 30,000 people per month. Even though the program has no announced expiration, it is recommended that everyone interested should apply as soon as possible.